Artificial Intelligence in retail is a promising trend that powers all industry segments. The AI technology assists retailers to lower costs and create a customized experience for consumers. The digital revolution of the retail sector has enhanced efficiency as well as accuracy across each branch of the retail industry thanks to predictive analysis that helps companies make intelligent business decisions. None of it would have been possible without artificial intelligence technology. AI technology in retail has powered the majority of businesses with high-level data that gets leveraged into better retail operations and improved business opportunities. AI and machine learning collect and analyzes a huge amount of data and deploy that information to forecast and assist retailers to make smart business decisions. AI in retail even deploys behavioral analytics as well as customer intelligence to extract useful insights about various market demographics and thereby improve multiple touchpoints in customer service.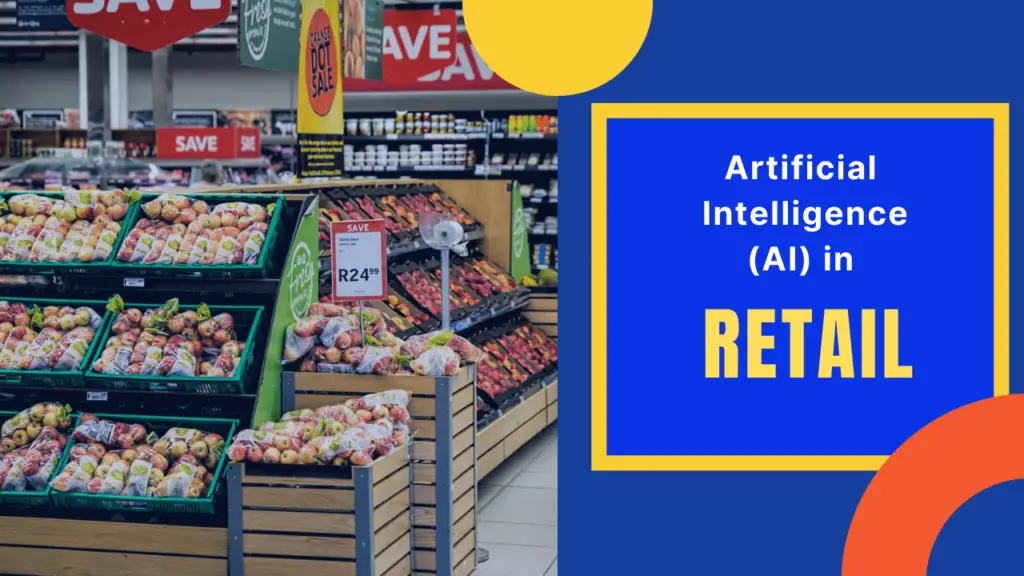 Top 10 AI applications in Retail industry
Here are the major applications of AI in the retail industry.
1. Supply chain planning
AI in retail creates demand forecasting. The AI business tools predict industry shifts by mining valuable insights from competitor data and the marketplace. The AI tools thereby make proactive changes to a business's marketing and merchandising strategies. They impact both supply chain planning and pricing.
2. Interactive conversation with customers
Building interactive chats with customers by using AI helps improve customer service in the retail sector. The chatbots deploy AI to actively engage with customers, answer their queries, and guide them to beneficial outcomes. The chatbots in turn gather useful customer data which can be utilized to inform business decisions in the future.
3. Adaptive Homepage
Digital portals and mobiles recognize customers and customize their e-retail experience that reflects their previous shopping behavior. AI systems continuously evolve users' experience to build hyper-relevant displays for each interaction.
4. Personalized shopping experience
Advanced CRM systems are accustomed to learning customers' preferences via repeated interactions for developing a detailed consumer profile and using this information for creating personalized shopping experiences for consumers.
5. Inventory management and operational optimization
AI-enabled logistics management systems adjust retailer's delivery schemes and inventory in real-time for creating efficient supply chains while catering to customers' demands for immediate support. The AI technology also allows operational optimization.
6. Visual Curation
Algorithmic engines effectively translate browsing behaviors into digital retail offers by enabling consumers to find related products using image-based search-making recommendations based on similarity.
7. Customer support
AI-powered conversational assistants deploy natural language processing for assisting consumers to easily navigate questions or troubleshoot, thus enhancing the customer experience by offering 24/7 support while streamlining staffing.
8. Responsive R&D
Machine learning algorithms gather and interpret customer feedback and purchasing data. This information is used for supporting next-generation product and service designs that fulfill uncatered demands in the marketplace.
9. Emotional Response
After recognizing facial, biometric, as well as audio cues, AI interfaces may identify consumers' mindsets and reactions. It greatly helps to deliver the most suitable products and recommendations, making sure that retail engagement doesn't lose its mark.
10. Product Layout
AI greatly helps retail in how the items get laid out in the store. When given the sales data, machine learning may discover patterns in consumers' buying behavior. Based on it, AI provides recommendations on what item to display in the store to get the customers to buy more. The recommendations are based on real data provided by the customers that buy in the specific store.
Best Examples of Artificial Intelligence in Retail Business
These are the best examples where AI improving the Retail experience.
1. Walgreens deploys AI to track Flu spread
The flu, if not treated properly, can be deadly to some people. People may take strategic action with the right information to keep themselves healthy. Walgreens utilizes data from the anti-viral prescriptions it fills at different locations for tracking the flu spread. The online map not only assists customers to find out how worse the flu is in their area but also assists Walgreens stock more inventory of flu-treating products in affected areas.
2. Sephora helps to find the perfect makeup
AI has made it possible to step into a Sephora store to find the ideal makeup shade without having to put anything on the face. Color IQ scans customer's faces and offers tailored recommendations for the foundation as well as concealer shades. Moreover, Lip IQ helps to find the perfect lipstick shade. It saves a lot of time for customers and spares them the effort of finding the perfect shade by trial and error.
3. Taco Bell helps to order tacos directly
Taco Bell was among the initial restaurants that enable customers to directly order food via AI. The Tacobot operates with Slack and allows customers to easily text or say their orders. It even allows large group orders.
4. Walmart uses robots to scan shelves
Walmart is a big and among the most famous retail stores in the world. Walmart has begun to test robots for scanning shelves in several of its stores. The robots scan shelves to track missing things, items that require restocking, and price tags that need changing. Using robots frees human employees to spend the saved time with consumers and make sure that they don't have to face empty shelves.
5. ThredUp deploys AI for remembering customer preferences
ThredUp is an online store that released Goody boxes which included secondhand clothing items made to match every customer's style. Consumers pay for the items they adore and return the items they don't prefer. AI algorithms remember every customer's choices so that future boxes may fit their style. The non-subscription boxes are much better than searching for individual pieces.
Conclusion:
There is much more that AI may enable for retail businesses. AI allows digital transformation in retail and thus distinguishes successful businesses from unsuccessful ones. AI is required in the retail industry to captivate customers, creating a personalized shopping experience, building insights from disparate data, and empowering flexible logistics networks. By using AI and connecting parts of their operations, retailers have a comprehensive view of stores, consumers, and products to assist with inventory management.