Many companies are recently adopting intelligent technology to increase operational efficiency while ameliorating the customer experience. Marketers gain a more thorough understanding of their target audience via these platforms. Artificial Intelligence in marketing refers to the use of AI technologies to make automated decisions based on data analysis, observation of target audience, and economic trends that influence marketing efforts.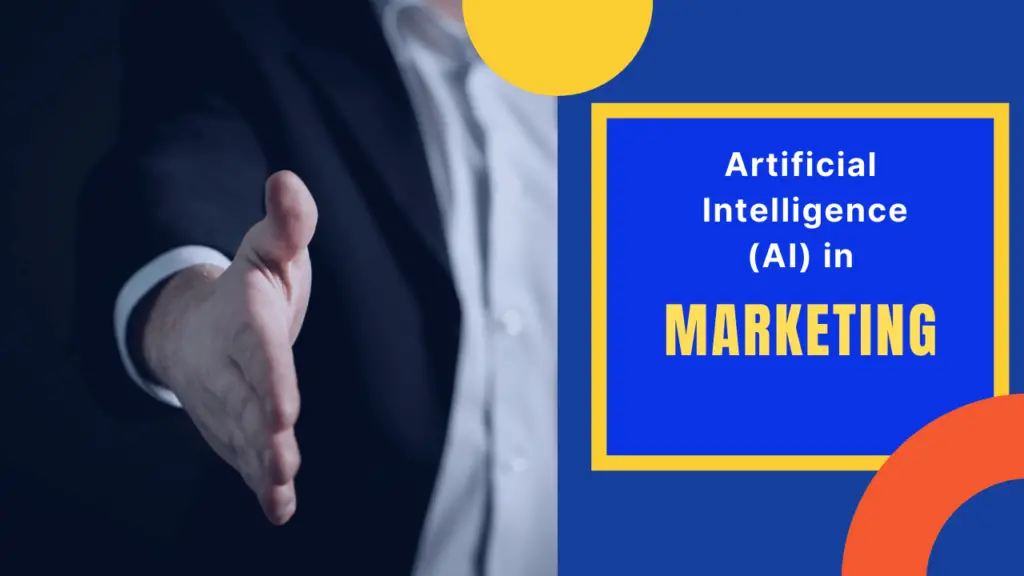 AI is best used in marketing efforts where speed is critical. The AI tools use both data and customer profiles for learning how to better communicate with customers, then offer them customized messages at the right time without any intervention from marketing members.
AI marketing is used in:
Data analysis
Sales forecasting
Real-time personalization
Automated decision-making
Programmatic Ad-targeting
Content generation
Chatbots
Natural language processing
Media buying
Speech recognition
Dynamic pricing
Components of AI Marketing
AI holds great importance in connecting marketers with potential consumers. Here are the components of AI marketing that makeup leading solutions that help bridge the gap between the huge amounts of collected customer data and the actionable steps that could be taken in future campaigns:
Machine Learning
Machine learning involves computer algorithms that analyze information and improve automatically through the learning experience. Devices that use machine learning assess information in the context of historical data that make decisions based on what worked and what didn't work in the past.
Big Data
The emergence of digital data is bringing an influx of huge volumes of data. This big data is providing opportunities for marketers to comprehend their efforts and then attribute value accurately across channels. This is leading to an oversaturation of data as marketers struggle to decide which of the data sets are worth collecting.
AI-Powered Solutions
Effective AI platform solutions give marketers a place to manage huge volumes of data being collected. These platforms can derive insightful marketing intelligence into the target audience so that data-driven decisions can be made about how to best achieve them.
Importance of AI Marketing
Artificial intelligence has a huge impact on digital marketing. According to a recent study, more than 50% of companies nowadays are considering employing AI in their marketing solutions. AI marketing enables marketers to extract a huge volume of data and marketing data analytics from the web as well as social media in no time. The insights received from these platforms enable marketers to boost their campaign performance and get a faster return on investment (ROI). This gives businesses more time to utilize other critical tasks. AI is very important in marketing campaigns also because the majority of customers today expect businesses to understand their needs and demands. AI marketing helps marketers comprehend who their target audience is exactly, and thereby create a personal experience for users.
Top 7 uses of Artificial Intelligence in Marketing
As AI algorithms are evolving and advanced computational power is becoming more available, many companies are increasing the use of AI in their marketing practices. Here is a list of how companies use AI to improve marketing campaigns:
Use of predictive analysis to predict purchasing patterns of buyers
The predictive analysis employs huge volumes of data to predict future outcomes. Companies like Target have used predictive analysis to successfully forecast the purchasing pattern of buyers. For instance, in 2012, the retailer created headlines when they accurately predicted the pregnancy of a teenager based on her purchasing habits, even before she had discovered she was expecting.
Use deep learning for object recognition
Deep learning allows a computer to learn as well as recognize patterns in data to extract useful information. For instance, Facebook is using a comprehensive object-oriented engine utilizing photos submitted by users on Instagram.
Use chatbots to improve customer experience
Artificial intelligence is being used by high-tech companies to enhance the customer experience. By using intelligent chatbots, companies are delivering customers intuitive and dynamic communication which addresses their requirements and also helps them recognize useful services. For instance, Shell introduced a chatbot 'Shelly' to help customers recognize which enhancements are most beneficial for their vehicles.
Highly personalized website experience
AI can help enhance the visitor experience with intelligent personalization on your website. Intelligent algorithms can greatly help personalize website experience by assessing hundreds of data points about a user. For instance, Pandora combines human curators and machine learning algorithms for suggesting new songs that listeners may like. Music listening services provide many examples of competitive advantage attained by offering an excellent user experience.
AI powers content creation
It is speculated that the majority of the business content would be authored by machines soon. Machines can now create content with simple formats like:
Quarterly business reports
Real-time stock insights
Profit and loss summaries
Hotel descriptions
Sports games recaps
Furthermore, AI-powered marketing tools may suggest fresh social media content that the brand's followers are most likely to engage with.
Personalized email content creation
AI algorithms can easily map subscribers' website experience as well as email browsing data to comprehend all the interactions with your content. This data enables the algorithm to recognize hyper-contextual content to curate personalized emails. Dynamic emails get compiled based on previous website interactions, previously read content, wish list, most popular content, and interest of similar visitors.
Automated image recognition
Big brands use AI-powered image recognition for identifying people as well as objects from images and videos.
Challenges for Artificial Intelligence in Marketing
One needs to be aware of certain challenges when implementing AI in marketing which are:
AI tools require training time to learn customer preferences and organizational goals. It requires data quality assurances in addition to time. If the AI tools do not get trained with accurate and representative data, the tool will make less reliable decisions that don't represent consumer desires, hence decreasing the value of the tool.
Marketing teams need to guarantee that they are ethically using consumer data in compliance with standards. The AI tools should be specifically programmed to observe legal guidelines and it is indeed a challenge.