China will soon become the first worldwide superpower for AI. China and the U.S are the world's leaders in AI development. Its vast population can produce huge volumes of data which is a requirement for 'training' AI systems. Chinese people have the most ambitious AI strategies and provide the major resources worldwide for their implementation. China is combining a huge amount of data with talent, research, businesses, and capital for building the world's top-class AI ecosystem. AI has plenty of applications in different industries in China.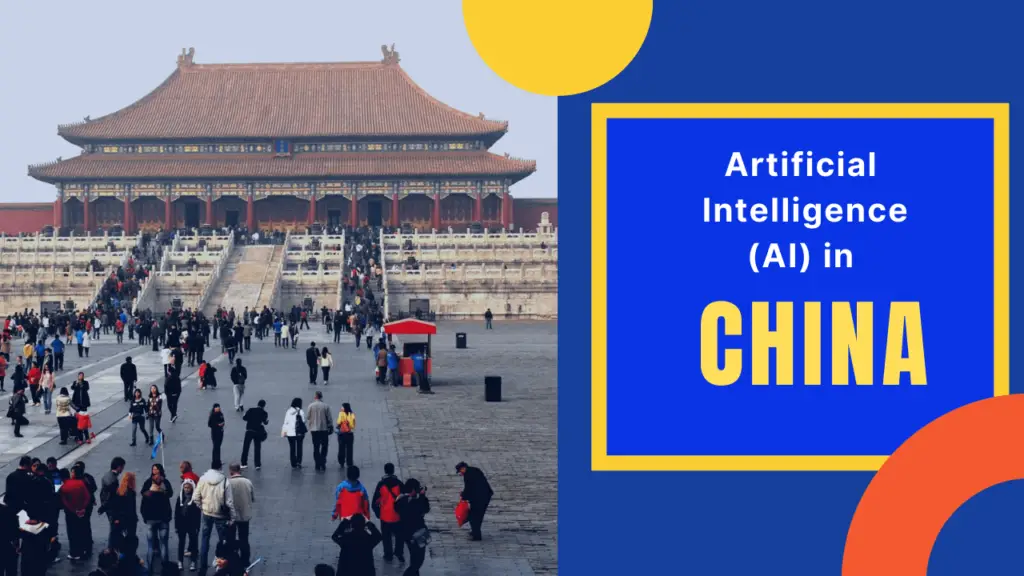 AI in Healthcare
Rapid developments are being made in the healthcare industry. China is currently trying to provide affordable access to high-quality healthcare services to its aged population. The AI applications include "AI doctor" chatbots. The chatbots help connect communities in far-flung areas with consultants through telemedicine; machine learning speeding up pharmaceutical research. Deep learning is being used for medical image processing that helps detect cancer and other diseases at an early stage. Other applications of AI in the healthcare sector include:
Precision marketing based on sales forecasting in medical cosmetology as well as dentistry.
AI auxiliary diagnoses were driven by data.
Medical image analysis.
AI in Education
The applications of AI in education are rapidly progressing in China. One of the applications includes AI-adaptive learning which is widely applied in the learning processes. The action plan on promoting AI-based education consists of:
Advance intelligent education.
Creating a student-centered intelligent teaching environment.
Promoting the application of AI technologies in teaching and management.
Expediting the reform of the talent cultivation model and teaching method with AI technologies.
Exploring ubiquitous, flexible, and intelligent teaching environment and application models.
AI in Manufacturing Industry
AI in China's manufacturing industry is making advancements as the smart factory technology in China is progressing and the manufacturers are discovering applications for which AI algorithms make complex decisions. Many manufacturers have started using data analytics to boost equipment utilization and product quality while simultaneously reducing energy consumption as well as the cost of production. Engineers have started gaining new insights into machine failure via the active use of data mining and this has improved reliability. Smart products now send customer experience data to product managers so that the managers can recognize demand and maintenance requirements and thereby design improved products.
The use of AI in Chinese factories can be classified into two sections that are:
Product research and development
This involves the use of Voice as well as Facial Recognition, Machine Learning Natural Language, Neural Network, and Deep learning.
Improvement of the production process
This involves the use of Robots to simplify the production process.
Top five AI Companies of China
Despite their ground-breaking work, top AI startups in China aren't very well-known to the common person as compared to famous companies like Facebook, Google, and IBM. However, the role these companies are playing to bring about innovation cannot be ignored. The five major AI companies of China include:
1. DJI
DJI is a market leader in drones with a 70% market share. The reason why this drone company is among the most valuable AI companies from China is simple. Drones have evolved from simply being flying cameras to being smart in maneuvering. DJI works hard towards improving image recognition to avoid the objects that a drone encounters during its flight. For instance, the Phantom 4 drone incorporates AI design principles and employs image recognition to avoid objects. The technology used by DJI simultaneously covers three areas:
Drone technology
Robotics
Artificial Intelligence
The major products of DJI include:
DJI's Mavic line
The RoboMaster S1
DJI's Phantom 4
DJI has also teamed up with Microsoft for collecting real-time data into a computer with the help of drones.
2. Ubtech
Ubtech robotics is currently one of the world's highly valued AI companies. The Shenzhen-based company has come a long way since its founder James Zhou made its first humanoid robot "Alpha 1S." The original focus of the company was on consumer-facing robots. However, it also caters to enterprises currently, for instance, with the customer-service 'droid Cruzr' used in government offices and schools. Other major products of this company include Alpha and Jimu. Ubtech has set up a separate division known as Ubtech Education to get children more skilled in robotics right from school.
3. Cloud Walk
Cloud Walk was founded by Zhou Xi in 2015. The primary product of Cloud Walk technology is facial recognition software. The company supplied facial recognition technology to China's border control in its initial days. These facial recognition terminals are still being used today with scanning door entry services. Financial institutions use this technology the most. The Agriculture Bank of China employs its facial recognition services for accuracy, efficiency, and security of self-serving machines. AI via facial recognition helps several institutions track employees and identify criminals. The company has even designed big data platforms for public security.
4. Sense Time
Sense Time was founded in Hong Kong in 2014. The company displayed its face recognition system "Deep ID" in the same year. It was the first system that displayed more accuracy in face recognition as compared to human eyes. The company has been consistently producing research papers. It is an algorithm provider for smartphones, online retail, smart cities, and much more. It has several important technological partnerships which are as follows:
The company coupled with Qualcomm for on-device intelligence. This brought several benefits such as real-time performance and privacy protection over cloud-only implementations.
The company joined hands with E-drive along with Shanghai Municipal Corporation to build an intelligent transport system.
The company also partnered with Honda for autonomous cars.
5. Cambricon
Cambricon is one of China's most valuable AI chipmakers. Its chips have been used to power millions of smartphones and servers. It builds core processor chips for intelligent cloud servers, intelligent terminals as well as intelligent robots. It has made its name as a major supplier of Huawei's AI chip-powered smartphones. If Cambricon realizes its ambitions, it will assist China in achieving self-sufficiency in digital components which may reduce dependency on imports.
Conclusion
The approach of China towards AI development is pragmatic and focused on looking for applications that can help resolve real-world problems.