Artificial intelligence is the innovation of science. It is the simulation or integration of human intelligence into machines. Such machines and robots are programmed to perform actions that are like humans. This term is also applicable in a way that these machines have such traits as humans e.g. problem-solving skills, learning, and result-orientation thinking. Artificial intelligence helps machines learn and analyze unstructured data on a very large scale. This enables the users to handle more complex data with the help of AI. There are several books on AI that also help the audience to better understand this technology and its way of working in daily life tasks. These are the top 10 artificial intelligence books for beginners that will help you learn about artificial intelligence (AI).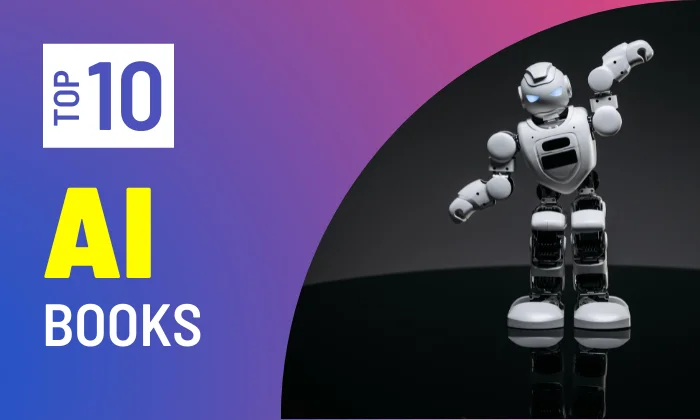 By Tom Taulli
This book summarizes the uses of AI in every sector of life. AI technology is present everywhere from digital assistants to smartphones. Artificial intelligence has become popular and it is also evolving as a general technology reflected in transportation, financial services, gaming industry, healthcare, and many more. Everyone needs to understand this technology for a better future and success.
The non-technical introduction has been given to many important concepts for readers such as deep learning, machine learning, natural processing language, and more. This book helps readers to grasp the fundamentals of AI. Attention has also been paid to the future importance of AI. Its impact on world governments, daily life tasks, industries, and companies' structures has been highlighted. AI is the present and future of every business as well. Many tech giants and other industries are already making investments in AI to better equip themselves.
By Dr. Dhhot
This book has been focused on kids to equip and sharpen them to better understand the use of AI technology. Dr.Dhoot introduced the basic concepts of AI; its types and their meanings. Different approaches have been used to better deliver the idea of AI. Flamboyant, beautiful, and visually pulsating illustrations with simple text have been deployed to encourage the children's sense of curiosity and wonder.
There are two levels; one is for basics for kids which is written in black text and the other level is in purple text for reading, learning, and beyond. It allows the kids to grasp scientific concepts in a fun and creative way.
By John Mueller
This book tackles the misinterpretation and misunderstanding of artificial intelligence. It also emphasizes the importance of AI and its future. This book provides a clear introduction to AI technology and how it is being used today.
This book consists of several sections in which different uses are very well explained with the help of different misinterpretations. There are several applications of AI explained in this book from self-driving care to drones, the medical field to smart technology. Moreover, it also shows the contribution of AI to society, its limitations, its history, the usage of AI in the computer science field, and how the world is going to change with this technology.
By Lasse Rouhiainen
This book is more focused on the importance of AI in the life of humans and its impacts that are both negative and positive. This book also has a post-COVID-19 section on AI. This book helps you learn the emerging technologies and their impacts on business, society, and humanity. All the hot topics of AI are well covered in this book from chatbots to robotic healthcare, smart cars to post covid-19 era, and much more.
This book also helps individuals learn to best prepare for the inevitable wave of science innovations with the help of practical and strategic tools. It also depicts the future of this technology; like robots revolutionizing industry and society, ethical standards and re-education are important for this generation and many more.
By Alan Pelz-Sharpe
AI can bring sudden changes and improvements in the workplace, society, and industry. Over the years, billions of dollars have been invested and will be invested in the future too. Many AI-based projects fail early or disappoint in the long run.
This book explains effective strategies and techniques to use AI in a better and correct way to get positive results and more success in projects. This all is based on the independent perspective of AI; its strengths and weaknesses, its usage area, and many more. If the guidance for using this technology is not correct, then the consequences could be devastating.
By Sean Gerrish
The algorithms and key ideas have been highlighted by which these intelligent machines perceive and interact with society and the world. This book thoroughly describes the software architecture of AI.  It explains how self-driven cars stay on the road and the passenger reaches the destination without any harm or hurdle, different algorithms by which TV shows and movies are recommended on different social websites, as well as how programmers are treating and programming the systems.
This book contains less technical details and more easy-to-understand text due to which science and technology geeks will find this book very pleasing and helpful because it's a guide to the future in which the world will be dependent on these machines not on humans.
By Tegmark Max
This book shows the way to keep human interaction alive in different tasks that involve AI. In this way, prosperity can grow side by side with automation without leaving people lacking income or purpose. This book empowers readers to understand different aspects of artificial intelligence. It covers all the viewpoints whether they are controversial or not, from consciousness to superintelligence. It explains how AI can change the future and how can we make our future with the help of this intelligent technology. It highlights how this technology can affect crimes, law, war, jobs, and the sense of a human being. It shows the way by which human beings and AI can work together and avoid challenging factors.
By Stuart Russell and Peter Norvig
This book offers an up-to-date and comprehensive introduction to the theory and practice of AI. It offers a coherent view of artificial intelligence. AI algorithms are presented most simply. This book provides a telepath for readers to understand AI technology by first viewing the history and the past of this field and then the future of this technology and how we have come to this day with the integration of AI in daily life tasks.
This book conveys how we can use automation as much as we want without depending on it. The approach used by the author is very unique in a way that a reader can understand the full depth of basics and advances of AI without any complexity.
By Michael Negnevitsky
This book's target audience is students. It helps the students utilize their thinking and understanding of AI to build intelligent systems that are based on knowledge. This will allow students to build systems like evolutionary computation, intelligent agent-based systems, neural networks, etc. There are no complex mathematical terms used in the book, so readers know exactly which technology is useful and which is not. This book describes the usage of tools with examples. It is good to minimize the programming complexity at the student level for AI and students can understand and benefit by discovering new tools and their usage.     
By Henry Brighton
This book focuses on human intelligence and also on artificial intelligence. Over the past 50 years, much research has been done on artificial intelligence and machines. The results of the research have a similar conclusion that computer intelligence beats human intelligence. This book also addresses major issues in the designing of machines, consciousness, tuning structural cutting of robots, and many more. This book broadly covers all fascinating areas of AI.
Stay tuned to AiHints for more insightful tutorials on web development, programming, and artificial intelligence. Happy coding!