These are the top 10 Cyber Security books that will help you learn and implement Cyber Security.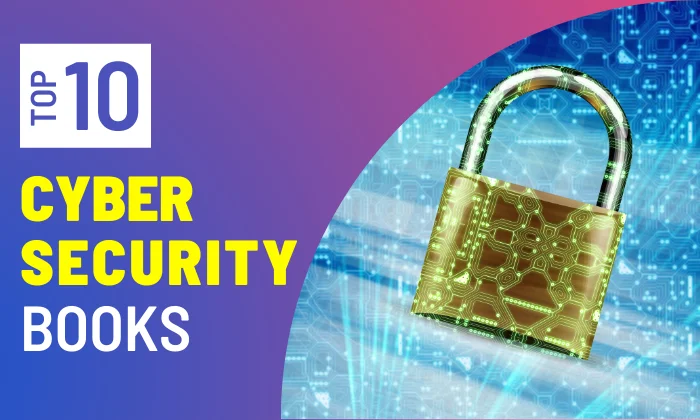 by Dr. Gerald Auger, Jaclyn "Jax" Scott, Jonathan Helmus, Kim Nguyen
Cybersecurity is a growing field that will continue to grow in importance. Many people are unclear about how to get started, despite the rich compensation and tremendous professional potential opportunities. Leading industry experts have written this book to help you confidently join the field of cybersecurity, covering everything from obtaining the necessary certification to advice and resources for landing your first job. The book begins by guiding you through the basics of cybersecurity, including cyber law, cyber policy, and frameworks. You will have received the knowledge you need to effectively define your professional path and create career advancement goals by the end of this cyber book.
by Charles J. Brooks, Christopher Grow, Philip A. Craig Jr., Donald Short
Expert coverage of crucial topics required for entry-level cybersecurity certifications is provided in Cybersecurity Essentials, a complete introduction to the industry. Securing the infrastructure, devices, local networks, and perimeter are the four main problems that make up successful security. This book goes into each difficulty in greater depth, including real-world examples of how vulnerabilities manifest themselves in regular computing environments. Each section ends with a summary of key topics, review questions, and hands-on exercises that allow you to test your learning while putting your new critical abilities to the test. This book provides a foundation of cybersecurity knowledge as well as the building blocks for entry-level security certification.
by Joseph Steinberg
Cybersecurity is the process of guaranteeing the integrity, confidentiality, and availability of information while protecting against unauthorized or criminal use of electronic data. Being "cyber-secure" indicates that a person or organization has both safeguarded themselves against cybercriminals and other internet crooks, as well as assured that they can recover if they are attacked.
If keeping your business or family safe from cyber threats is on your to-do list. This marvelous book will walk you through the fundamentals of becoming cyber-secure. You'll learn about the various threats that exist, as well as how to recognize, protect against, detect, and respond to them.
by Christian Espinosa
This masterwork demonstrates how to use your company's smartest minds to your and their benefit. Learn about Christian's experience as a cybersecurity engineer who eventually became the CEO of a firm. When efficient communication, actual intelligence, and self-confidence are not embraced, a high IQ becomes a lost superpower, according to the author. The author guides you through the process of developing your team's technical minds so that they can grow into better persons and strong leaders who thrive in all roles. This book gives you a new viewpoint on how to turn your most unknown weakness into your most powerful defense.
by Dr. Erdal Ozkaya
This book compiles all available information on cybersecurity, including why you should pick it, the necessity for cybersecurity, and how you can contribute to closing the cybersecurity talent gap piece by piece. We'll start with a basic grasp of security and its requirements before moving on to security domain developments and how artificial intelligence and machine learning are assisting in system security. Later in the book, you'll learn about all of the abilities and tools that anyone who wants to work as a security guard should be familiar with. The book then goes on to educate readers on how to think like an attacker and go through some advanced security techniques.
by P.W. Singer, Allan Friedman
This guide fills a gap in the market for an easy-to-read, yet comprehensive resource book on this critical subject in 21st-century life. The book is structured around the fundamental question areas of cyberspace and its security: how it all works, why it matters, and what can we do. It is written in a vibrant, approachable style, loaded with intriguing stories and illuminating anecdotes. They take readers on a tour of the key themes and players in cybersecurity along the way. We are confronted with new issues about everything from our rights and responsibilities as online and offline citizens to how to defend ourselves and our families from a new form of threat.
by Paul Troncone, Carl Albing Ph. D.
The authors explain how to use command-line tools and strategies to collect data, analyze logs, and monitor networks for defensive operators. Penetration testers will learn how to make use of the massive amount of functionality integrated into almost every version of Linux to enable offensive operations. If you want to outmaneuver threat actors, you need to prioritize speed and efficiency in your cybersecurity operations and this book provides you with all that. This tutorial demonstrates how to use the CLI in conjunction with the bash shell to conduct activities including data gathering and analysis, intrusion detection, reverse engineering, and administration.
by Raef Meeuwisse
Technology is no longer an afterthought; it now plays a central role in our daily lives. Companies that can employ technology intelligently and effectively thrive, while those that make poor or no technological decisions fall and vanish. Even if you don't have a technological background, this book will provide you with a basic understanding of cybersecurity. You can be a businessperson who wants to learn more about this essential topic or an information security expert who wants to brush up on your skills. Many of the most popular cybersecurity technical terminology are translated into simple, non-technical English in an alphabetical section at the back of the book.
by Gregory C. Rasner
As a hacker, you do not target a large firm or organization with presumably good protection, as this book aims to teach you how to secure data. You go after a third party who, more than likely, does not have your best interests at heart. Companies have devised a method of deterring car thieves. Make your car appear tough to break into so that thieves will approach it with the doors unlocked and the keys in the ignition. When a burglar spots a car with a car alarm, they know they can search around and pick a less well-protected target.
by Sam Grubb
This beginner's book covers a wide range of attacks, typical online adversary approaches, and defensive strategies you can use to protect yourself. You'll discover what security pros do, how a cybercriminal sees an assault, and how to put sophisticated cybersecurity protections in place on your own devices. You'll also find explanations of topics such as malware, phishing, and social engineering assaults, as well as real-world examples and hands-on activities to help you put what you've learned into practice. You'll learn how to get around access limits, avoid worm and virus infections, and keep your cloud accounts safe from hackers. This book will teach you all you need to know to look beyond antivirus and make the best decisions possible to keep online monsters at bay.
Stay tuned to AiHints for more insightful tutorials on web development, programming, and artificial intelligence. Happy coding!